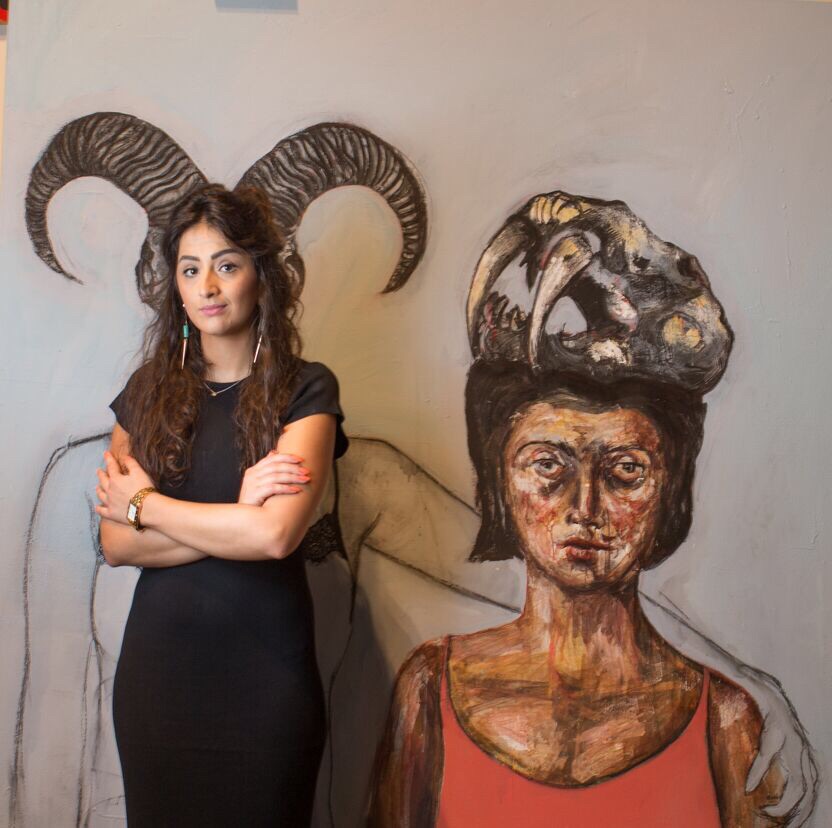 A dedicated artist, born in Damascus, Syria in 1991, Noor graduated top of her class from the Faculty of Fine Art in the University of Damascus. She was also one of the first young artists to be granted a residency at Ayyam Gallery in Dubai, where she held her first Solo Exhibition in August 2015. Working from detailed sketches in a painterly expressionist style that is primarily applied to figurative subject matter, Noor, skillfully transitions between warm and cool palettes. In addition to detailed line work and saturated washes of paint, creating deeply atmospheric composition. Influenced by postwar artists such as Francis Bacon and Lucien Freud, she captures the most inane human actions, and elevates them to deeply compelling, intimate portrayals by focusing on the body as it seemingly undergoes transformation within the confined space of the composition.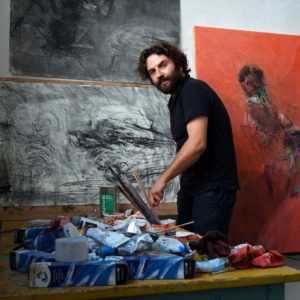 Born in Al Hasaka Syria in 1980, Adel Dauood graduated from the Fine Arts Center in Hasakeh in 2002, and then from the Faculty of Fine Arts University Damascus in 2011. He had his latest solo exhibition in 2015 at gallery Hinterland in Vienna Austria, having held previous solo exhibitions in 2012 at Foresight32 Art Gallery Amman and Art House Damascus. He has participated in many group exhibitions in other parts of the world including Germany, Sweden, Turkey and France. Both the British Museum and Burjeel Art Foundation have acquired works by Adel in 2015.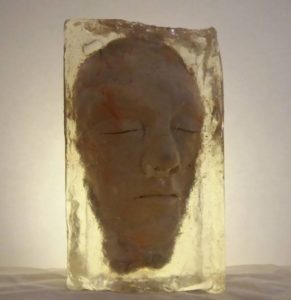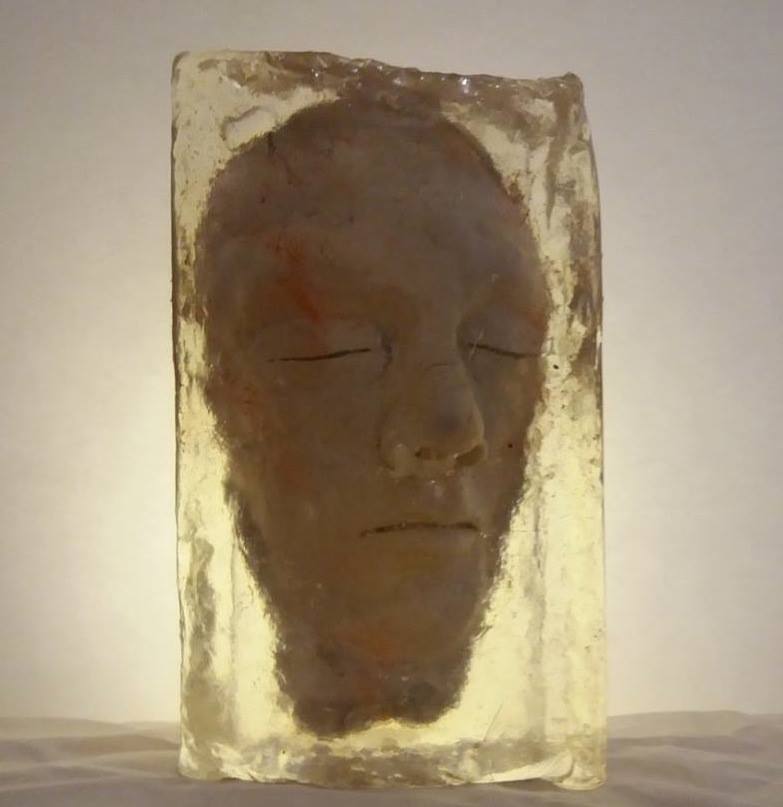 Syrian sculptor Nour Asalia was born in Hama Syria. She is currently living in Paris France and completing her PhD on 'The fragility in sculpture in the first half of the twentieth century' at the Graduate School for Aesthetics and Science and Technology of Arts Paris 8 University.  She has participated in many group exhibitions including the 4th Edition of the Sculpture Biennale in Yerres France in 2016, and others in Syria and Lebanon, and had her solo exhibition in  2010 "The Camel" at the Kozah Gallery in Damascus.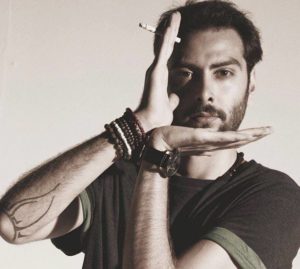 28 year old Ayham Jabr was born in Damascus-Syria. Working mainly as a video editor for TV Series and films, he is also passionate about graphic design, photography and collage digital and analog. His love for science fiction films, stories and theories are a main source of inspiration behind his art works which are mainly digitally created collages. Ayaham has exhibited his art in many exhibitions in 2016 including the 300štvorcov cooperative with Mazipos in Serbia , Romania, Slovakia and Germany in 2016 alongside more than 70 artists from around the world ; Chapter 31 at the P21 Gallery in London UK ;  "The Syrian Experience As Art" at the Castleton University Art Gallery ,USA and the Rusted Radishes Exhibition in Beirut, Lebanon. He has his firt Solo Exhibition Solo Exhibition dedicated to the collage project "Damascus Under Siege." Café Beirut- Project of Gries Bath Gallery, Ulm, Germany in 2016.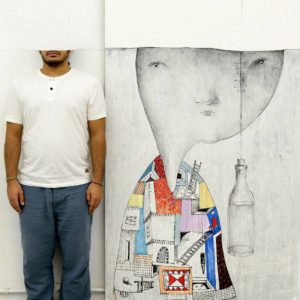 Mohamad Khayata was born in 1985 in Damascus. He Holds a B.A. in Fine Arts from Damascus University. He has had two solo exhibitions at 392rmeil393, the last one was in 2015 entitled "Walking on thread". Mohamad has taken part in several group exhibitions across Europe and the Middle East, including "Syrian Art: of Today ", organized by VC and Oxfam in London (2014); and "The Third Space", organized by the British Council In London and Brussels (2015). After launching his project "Stitching my Syria back " in 2014 he exhibited in six collective exhibitions and lately his work was chosen to be part in Journeys Festival International 2016  as a land mark for the Look up project where his photographs were installed on 10 Buildings in Leicester UK.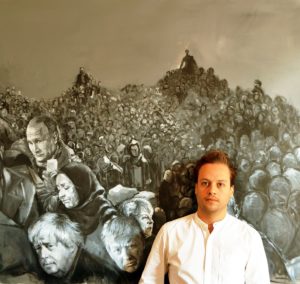 Syrian painter, performing artist and filmmaker Abdalla Omari was born in Damascus in 1986. In 2009, Omari simultaneously graduated from the Damascus University with a degree in English Literature and the Adham Ismail Institute for Visual Arts. Abdalla Omari's paintings were featured with Ayyam Gallery since early 2012 at The Young Collector's Auction where his captivating portrait garnered much attention and sold over estimate. Omari was recently granted asylum in Belgium and he currently lives and works in Brussels, where he started his project " The Vulnerability Series", depicting the world political figures in very vulnerable states, breaking their image of ultimate power. "Fraught with emotion, Omari's oil on canvas compositions tackle complex psychological states, yet retain a profound beauty through their painterly application and realistic portrayal." Since his graduation, Omari's work has been featured in exhibitions, auctions and festivals in: Syria, Lebanon, UAE, Georgia, France, UK , USA, Denmark, Germany, Poland, and others. His works are aquired by art institutions like : Barjeel Art Foundation UAE, Ayyam Gallery UAE, Kamel Gallery Damascus, the ministry of culture, Syria, and in private collections around the world.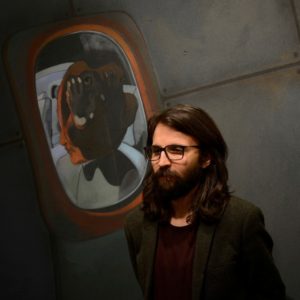 Mohammad Zaza, Syrian artist, was born in Riyadh in 1987. Growing up in an artistic family, he started drawing and painting at an early age. After completing high school in Saudi Arabia, he moved to Syria in 2006 to study at the faculty of Fine Arts in Aleppo University. He held his first solo exhibition in 2008 and, after his graduation in 2010, was appointed as a painting teacher assistant at the University until 2012. Besides painting on big size canvases, Zaza also works on illustrations and animations. Mohammad has held 10 solo exhibitions across Syria, Saudi Arabia and Turkey, in addition to his participation in many group shows and international art fairs.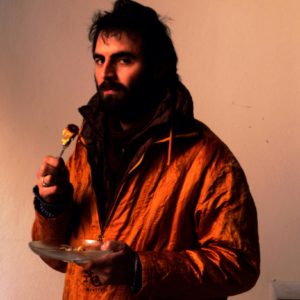 Born in 1982 and a graduate of the Faculty of Fine Arts in Damascus in 2006, Yamen Yousef is a Syrian sculptor artist. Having previously participated in many sculpture symposiums, art workshops, art fairs and exhibitions in Damascus, Beirut, Turkey and London. His work researches the ability to give expression to the human form, to transmit and translate its language into sculpture form, working to combine traditional sculptural knowledge and technical skills with contemporary issues and thereby trying to create works that are reactions to daily life. Yamen has worked with many materials including bronze, wood, metal, plaster, stone, and recycled paper. He uses several medias for his artistic expression such as digital media, printmaking and painting.
Born in Damascus in 1988, Alaa lives in Damascus, Syria. Graduated top of his class in 2010 from the Faculty of Fine Arts in Damascus University and completed a Master's degree with excellence in Fine Arts from Damascus University as well. His work combines an  analytic mind with the accumulated feeling in his memory. Lines are used to build the distorted human shapes and complex imaginary creatures and sometimes the lines become so complicated and mixed up that those creatures are unclear and full of emotion. In most of the times lines accompany the technique which is a main creative element of Alaa's artwork, and his tendency towards order and discipline while also being a reflection of his unconsciousness. His experiments on using different materials led to the creation of a link between two worlds, painting and print-making. Alaa had his first solo exhibition with Tajaliyat Gallery in Beirut in 2015, and has participated in group exhibitions in other parts of the world including Singapore, Italy, Albania and Canada.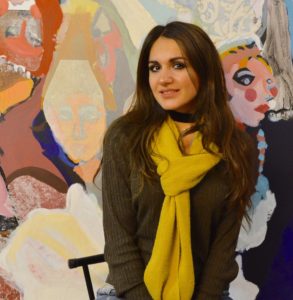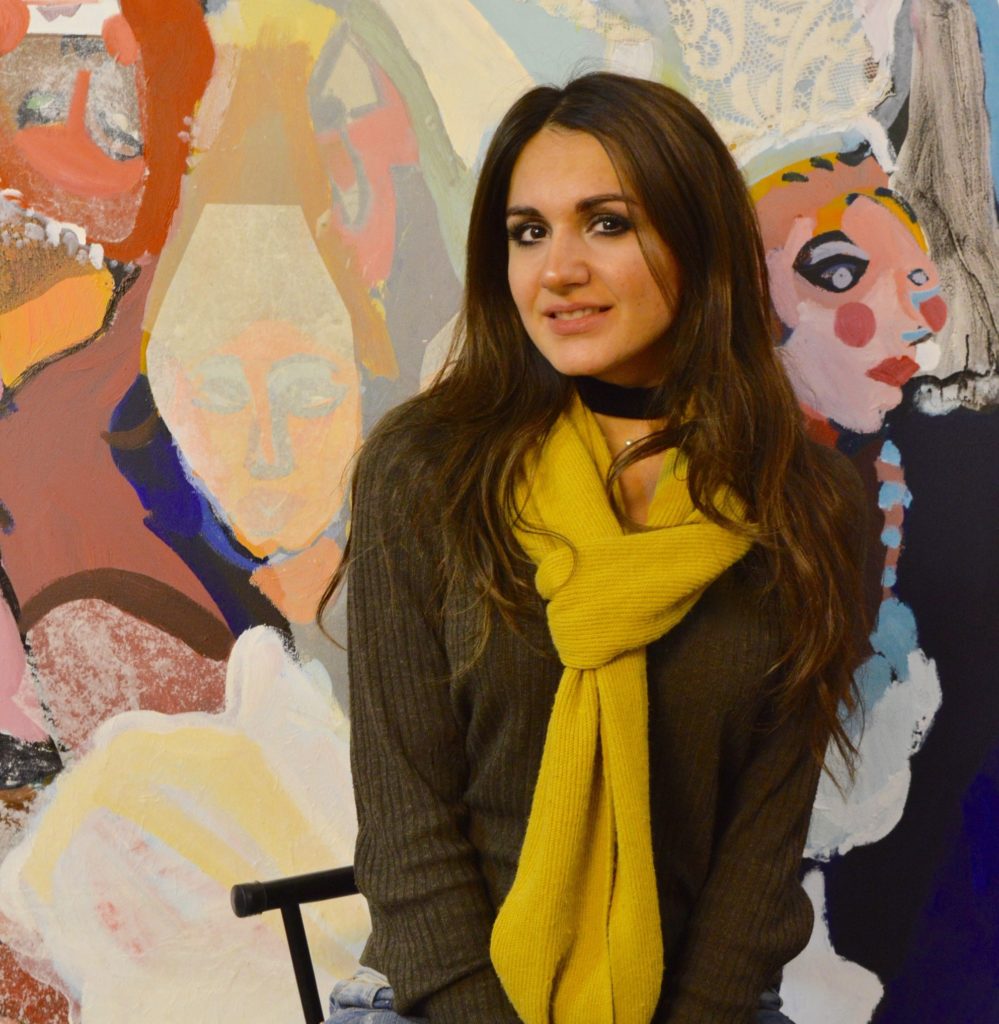 Born in 1991 in Damascus, Juhayda completed her BA in Fine Arts in 2013, and a Master's degree in "Byzantine painting's impact on contemporary Syrian painting" from Damascus University. She had her first Solo Exhibition at Art House in Damascus Syria in 2015, and has participated in many group exhibitions in other countries including Lebanon, Albania, Italy and Canada. A deeper analysis of the figures in her paintings show that they represent masked creatures and false identities created by those figures who delude each other but when left alone their masks fade away showing the truth underneath; some are desperate and void from the inside while others create their own worlds where elements' roles are set by them, but some disappear in the mask and become clowns in the parade of their lives. Symbols sometimes appear in Juhayda's work and there is an obvious tendency towards expressionism especially when she addresses the evil within the portrayed characters in her art.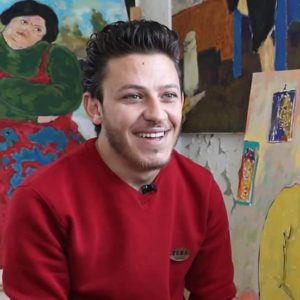 Born in Syria in 1991, Anas Albraehe is a multidisciplinary artist with a focus on painting and theatre performance.  He studied painting and photography at the Fine Arts University of Damascus, Syria. After the onset of war in Syria, he relocated to Lebanon where he completed his MA in Psychology and Art Therapy at the Lebanese University.  His recent work combines his expertise in the fields of art and psychology, to create a contemporary portraiture that explores the psychology of color and the glance of the other. His first solo exhibition, 'Manal', was held at Artspace Hamra in January of 2016.
Are you a Middle-Eastern Artist or Curator looking to build your capacities and develop your skills further? If so, please visit our SAFIR Artist page to find out more about our program and apply.