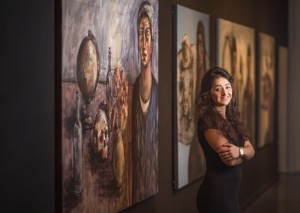 Following a rather competitive selection process, SAFIR's selection committee is pleased to name young Syrian artist Noor Bahjat Al-Masri as the first of three artists chosen for SAFIR's Pilot Artist-Mentorship Program – the capacity-building program dedicated to bringing together young talented artists from distressed countries in the MENA region with experienced Curators and Cultural Influencers who will mentor the artists for 10 sessions and help them develop their skills further.
A dedicated young artist, Noor was born in Damascus in 1991 and graduated top of her class from the Faculty of Fine Art in the University of Damascus in 2014. She was also the first young artist to be granted a residency at Ayyam Gallery in Dubai, the fruits of which where her first Solo Exhibition that ran from 3rd August-15th September earlier this year.
She will be teamed up with our very own Hala Khayat, Director & Head of Sales at Christie's Dubai and Vice President of MASSYR, who will be mentoring Noor over the next couple of months.
Wishing Noor a warm welcome to our SAFIR Artists Community!