Paint until you have nothing left to say. Mohammad is an artist of few words and believes that the true way of communication is through painting. Born in Riyadh, Saudi Arabia, from Syrian parents who were also artists, he got in touch with the brush from a young age giving him an advantage over many of his peers.
Being raised in artistic surroundings, he learned how to express his views via paintings in which he reflects human interactions. He analyzes religion, friendships, romance, death, happiness and feelings, which he portrays with a unique vision on a canvas. Some of his favourite paintings are The Oud Player, The Prayer and The First Question. Although these are his favourite paintings so far, he is very critical about his art work and believes he hasn't accomplished his masterpiece yet.
Mohammad, having studied at the faculty of fine arts in Aleppo University, Syria, familiarized with a lot of art movements but prefers not to be categorized into a specific art style. He is very open to different approaches and interpretations of his art pieces, but he says most of the people classify him as part of the Surrealist art movement.
Throughout his career, Zaza  lived in different countries and believes that the Middle East, although possessing the culture and eye to feel and make great art, does not yet believe in its true power. He views art in the Middle East as a subject that is regarded as prestigious and part of an environment which is aimed at bringing people together from a certain social class; adding that it should be made more accessible to a wider public. Through a better artistic education, sensitivity to artistic creation could be expanded, giving everybody the chance to feel art's power of change.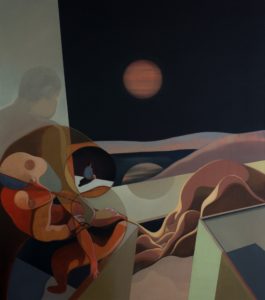 Thanks to technology, which he refers to as a prop for new artists, he has been working on a very ambitious project for the past three years. He is combining art and film to create an animation film.
With a smile on his face he would like to advise new artists to paint without thinking about the recognition, but just to express themselves, the same way you would express yourself through talking. Always remember art is a way of communication. This is why his main goal is to paint until he has no message left to convey.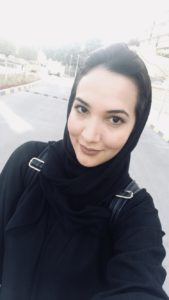 Ana Jasbon is a project assistant at SAFIR and a Master's student at Paris Sorbonne Abu Dhabi majoring in Banking & Finance. She is a devoted scholar, continuously seeking knowledge.